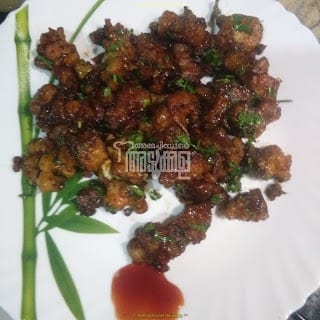 Gobi Manchurian ഗോബി മഞ്ചൂരിയൻ
Ingredients
Take a bowl add maida 3spn, corn flour 3spn, chilli powder 1spn, salt mix well adding water like Dosa batter. Now mix well with Gobi and deep fry in oil and keep aside.
Add oil in pan, minced garlic, ginger, onions, capsicum if required Fry and add chilli sauce tomatoes sauce soya sauce n stir well finally add spring onions or coriander and serve hot with tomato sauce.